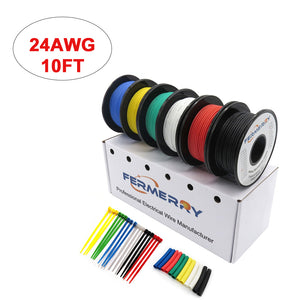 Package Include: 24 gauge silicone stranded wire 10ft of each 6 different colors (black, red, blue, white, green, yellow, total 60ft), also packed both of φ2.4mm HEAT SHRINK TUBINGS (3pcs * 6colors=18pcs total) & 4 inch WIRE TIES (3pcs * 6colors=18pcs total)
SPECIFICATIONS - super flexible 24 AWG electric wire 40 strands 0.08mm tinned copper wire, OD=1.6mm; 600 volts voltage rating; withstand -60 degree to 200 degree; super soft silicone insulation
FEATURES - high quality silicone rubber insulation & premium hairline 0.08mm tinned copper conductors make the cable super flexible, caused super low impedance & highly efficient electric wire; easy to handling, stripping, crimping terminals & welding.
APPLICATIONS - FERMERRY silicone stranded wire are widely used for model planes / aeromodelling, model cars, model ships, baterries, lamps household applications, electric heating appliances, meters instruments, motor lead wire, digital fieds, car lighting etc. 
Customer Service-Please feel free to tell us your inquires and issues, we will apply questions for you and  give you the pleasant shopping experience.